Registration Fees
We have established a registration fee of $85.00 for the meeting. This fee, as well as any additional fees you may owe, will be collected when you pick up your registration package at the meeting. A meeting registration table will be set up in the main lobby from 3:00 to 6:00 p.m. on Oct. 9, and outside of the main meeting room on the morning of Oct 10.

Additional fees include the cost of the banquet entree , and a $12.00 per person fee for those participating in the aquarium excursion. When you register, we will provide a total tally and receipt of all costs incurred based on your selections, as they are presented currently on the web page. At this point in time, even if you decide not to attend a meeting activity, if you signed up for that activity you will still be charged.

Lodging
The Asilomar Conference Center will coordinate your room registration and fee. The room rates are $155.50 US per night and include breakfast, lunch and dinner. Each room has two double beds, a private bath, no phone and no TV. Please note that although rooms have been reserved for LPMR 2001 conference participants on the nights of October 9 – 11, there are no rooms available on the night of Friday October 12 because of another group's occupancy. For other possible lodging, see Conference Accommodations.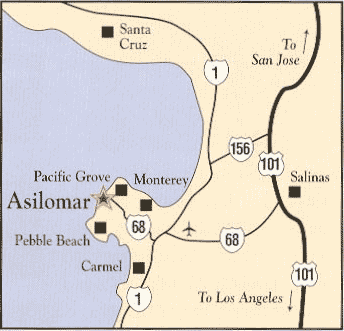 More maps at http://asilomarCenter.com/attractions/maps.html

Airport Shuttle
A shuttle service is available for transportation between the Asilomar Conference Center and the Monterey, San Jose, and San Francisco airports. If you need this service, we suggest using the Monterey /Salinas Airbus service at http://www.montereyairbus.com, where you will find the necessary information and online forms to make reservations. Please be sure to mention in the comment box that your final destination is the Asilomar Conference Center. From the San Jose and San Francisco airports, expect a $30 one way fare plus a door- to-door fee of $10 per shuttle directed to Asilomar.
Also, please take travel time to the airport into account when planning your departure. The San Jose and San Francisco airports are a 2-hour drive from the Asilomar Conference Center. The conference will be in session until 4 p.m. on Friday October 12. If your travel plans require you to spend that night closer to your departure airport, we can help assist you in locating a hotel.

Weather
Asilomar is located along the shore of the central coast of California, where the weather is mild year-round. However, coastal weather varies throughout the day. It be foggy in the early morning, become warmer and sunny around noon, turn cool and breezy later in the afternoon, and become chilly in the evening. Throughout most of the year, Asilomar's midday temperatures average about 60-65 degrees F. It is recommended that you bring a warm sweater or lightweight jacket for your visit, as well as an umbrella, since an occasionally shower is not unusual. Current local weather information.
Conference Activities
Presently we are planning an opening evening reception, an excursion to the world-famous Monterey Bay Aquarium, and a group dinner banquet . The schedule for the activities is as follows:
Evening reception Tuesday, October 9, after 4 p.m.

Aquarium Excursion Wednesday, October 10, 8–10 p.m.

Dinner Banquet Thursday, October 11, 6–8 p.m.

– Conference Activity Registration Fees




Aquarium ExcursionUPDATE
Those who would like to attend the aquarium excursion may still do so by contacting Jeff Thayer (jeffrey.thayer@sri.com). The excursion is a two-hour visit to the near-shore exhibit of the Monterey Bay Aquarium for only our group. Included in the visit is a dessert banquet with a fresh fruit display, assorted petit fours to include: espresso torte, hazelnut cake, fruit tarts, truffles and eclairs, cheese/baguette, gourmet coffees, teas and decaffeinated coffee. Even if you have been there before, this is unique opportunity to visit the aquarium at night with colleagues, enjoy a dessert spread, and take in the views of Monterey Bay. The fee for the aquarium excursion is $12.00 per person.

---
RETURN TO
LPMR 2001
HOME